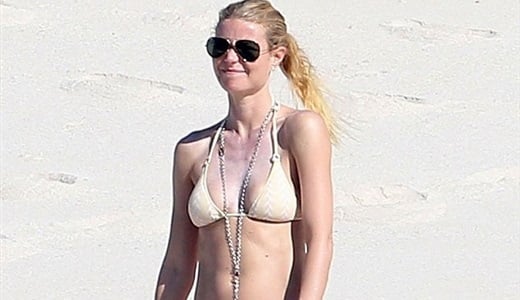 ---
Gwyneth Paltrow took a break from her busy schedule of getting green tea enemas and organizing fundraisers for biracial transsexual inner city youth, to vacation down in Mexico and make stupid faces on the beach while in a bikini in the photos below.
One can only hope that the sun seeks retribution against Gwyneth for all the sarcastic smirks she is giving it in these pictures, and inflicts her with an untreatable case of malignant skin cancer.
Allah knows she deserves it, for not only is Gwyneth Paltrow a raging know-it-all bitch, but her disgusting pear shaped body and moronic liberal ideals have offended Islam greatly. In fact, I wouldn't be at all surprised if Allah sends a rogue tidal wave or Mexican cartel hit squad to take Gwyneth out once and for all… or he could just have a coconut fall on her head… that would be pretty hilarious too.