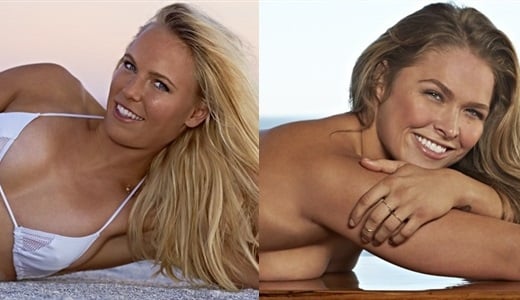 ---
The feud between former world #1 female tennis player Caroline Wozniacki and MMA fighter and UFC Women's Bantamweight Champion Ronda Rousey came to a head in this year's Sports Illustrated swimsuit issue.
As you can see in the photos below, these "athletes" hold nothing back and exchange vicious blows, with each girl trying to out slut the other in their photo spread.
Of course Caroline and Ronda come from completely different backgrounds, so conflict between them was inevitable. Caroline Wozniacki is the daughter of the billionaire Apple co-founder Steve Wozniacki, and so she had a much more cultured upbringing, which can be seen in the way she whores her tight preppy body in the photos below.
Ronda Rousey on the hand is the daughter of a clubfooted prostitute named Rita who worked the coal mining towns in West Virginia. Ronda's blue color roots are certainly reflected in the crass way she brazenly displays her stocky nearly nude body in these SI bikini pics.
It is certainly hard to say who won this Caroline Wozniacki and Ronda Rousey bikini battle, as each girl is repulsively immoral in their own way. However, what is for certain is that our holy Muslim morality and aesthetics lost, and they must be avenged through a righteous lapidation of both of these blasphemous sporty Jezebels.