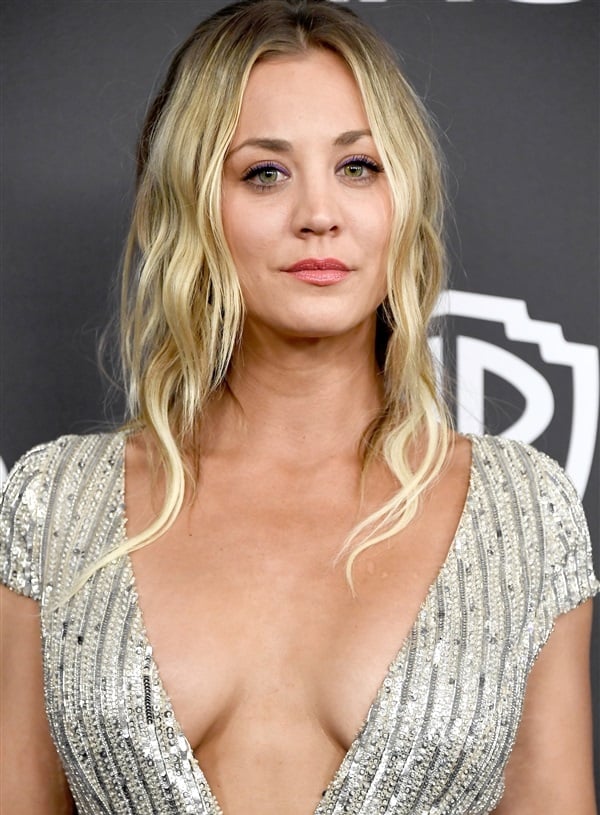 ---
"The Big Bang Theory" star Kaley Cuoco lets her tits hang out of her dress while flaunting deep cleavage at The Golden Globes in the photos below.
It is award season in heathen Hollywood and that means that celebrities are taking a break from literally blowing each other behind-the-scenes to metaphorically do it out in the open on television, all while they deliver pompous speeches rife with plenty of liberal talking points for maximum virtue signaling. The Golden Globes were of course fertile ground for celebrities to get on their progressivist soapbox, none more so than Meryl Streep who spent her whole acceptance speech chastising the American people for being ignorant MMA watching bigots for electing Trump President.
Of course the celebrity sycophants in the mainstream media couldn't wait to laud Meryl for her "bravery" in expressing an opinion that is shared by all of her peers and bosses. Sadly in all this Trump bashing the true bravery of Kaley Cuoco was lost, as she boldly exhibited a foolhardy lack of self-awareness by attending this event with her tremendously saggy boobs tucked under her armpits leaving a gap between her breasts that is so large that us Muslims could easily drive one of our Toyota war trucks through it.