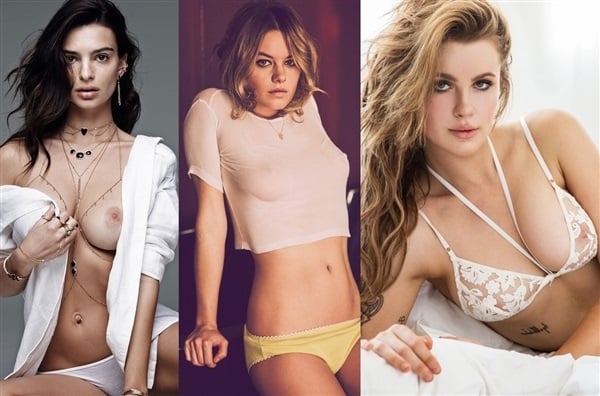 ---
Infidel models use to at least pretend that they were showing off clothing while prostituting their sinful female bodies in front of the camera, but as the West descends ever further into depravity models nowadays have dropped the facade and brazenly expose their nude bodies with no clear purpose but to titillate the degenerate heathen masses and anger us pious Muslims. This week was no exception with models Emily Ratajkowski, Camille Rowe, and Ireland Baldwin all displaying their blasphemous naked frames in the photo shoots below.
First up we have Emily Ratajkowski who once again unrepentantly flaunts her bare breasts and grotesque belly button which looks like it has a baby dick coming out of it (not a Muslim baby dick of course as we are all born with monster 8 inchers which only grow exponentially from there).
Next up we have French-American model Camille Rowe who shows off her perky boobs in a see through top and a hint of her pubic bush in see through panties. If Camille's bush takes after her French side and grows to a decent size perhaps she could find work in a respectable profession serving as a concubine in a Muslim's harem, and leave the immoral world of smutty photo shoots behind once and for all.
Lastly we have Kim Basinger and Alec Baldwin's daughter Ireland Baldwin displaying her sloppy white trash titties in a see through bra, and her dumpy ass and camel toe in a pair of tight white panties. Unfortunately for Ireland depsite being a tremendous whore she will never make it in the modeling business, as her looks are too much Baldwin and not nearly enough Basinger.