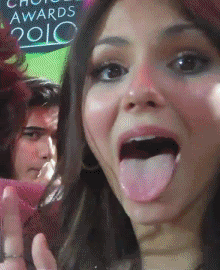 ---
When a reporter asked Nickelodeon star Victoria Justice "Where do you like to take a guy on a first date?", Victoria respond by crudely opening her mouth and showing her tongue as you can see in the video above.
Victoria Justice clearly misunderstood the reporter's question, but it should come as no surprise that the horny drug-addled mind of an infidel woman would assume he was asking about dick.
Though it is good to know that Victoria Justice gives blowjobs on the first date. If she doesn't have a gag reflex and can dislocate her jaw, I might take her out for an ice cream and then feed her my enormous tunic snake while pumping her belly full of my potent Muslim man juice.