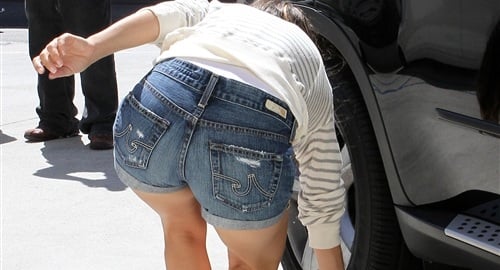 ---
At 29 years old actress Rachel Bilson is in frantic search to find a husband.
Rachel Bilson thought she had a husband when she got engaged to actor Hayden Christensen, but the marriage never materialized. Rumor has it that there was a break down in the dowry negotiations between the clans over how many goat skins Rachel Bilson is worth (in my opinion it is 5, but that is only if she has maintained her maidenhead of course).
So now that Rachel Bilson is almost 30 and still unwed she is desperate to attract a husband before her ovaries dry up, and she becomes just another old Hollywood shrew like Jennifer Love Hewitt or Jennifer Aniston.
As you can see in the pictures below Rachel Bilson's strategy for attracting a man is the same as all Western women. She is going to dress like a whore and then pretend to drop things and pick them up.
I guess if it works in the West then that is what Rachel has got to do, but in a civilized country like Iran Rachel Bilson would be more likely to find a rock to the face then a husband going about like this. I hope Rachel keeps that in mind if she ever hopes of landing a virile Muslim man.