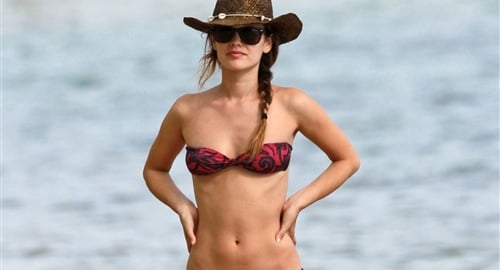 ---
After a break down in dowry negotiations with her fiance's clan, Rachel Bilson is single again and she has her sights set on a new potential husband… me!
Just look at these pictures of Rachel Bilson in a tiny bikini basically throwing herself at me. As one of the leading Islamic extremist celebrity bloggers, Rachel Bilson knows that I'd be forced to cover her wearing next to nothing while the sun glistens off her tight young body.
Frankly having a female celebrity admirer is something I've been expecting for quite a while now, so I was well prepared when I saw these Rachel Bilson bikini pics. You can only say nasty things about girls for so long before one of them falls hopelessly in love with you. For as it says in the Qur'an "Treat a woman like dirty and she will stick to you like mud."
Rachel Bilson did succeed in getting my attention with these scandalous bikini pics, but she has failed in winning my heart. Rachel you must know that I find a fanatic dedication to Islam infinitely more attractive then seeing your beautiful face, firm breasts, and tight round ass in a tiny bikini.