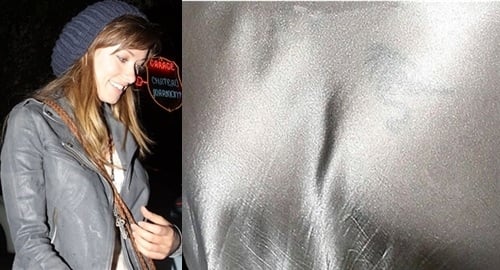 ---
Olivia Wilde is considered to be one of the classier actresses in Hollywood, which is to say that she has the manners and sophistication of a REFORMED meth whore.
That is why it was a bit of a surprise to learn that Olivia Wilde has a tattoo… on her ass. As you can see in the photo above Olivia was caught wearing a sheer silver skirt, and when she bent over the outline of her butt tattoo was visible.
Olivia Wilde's butt tattoo appears to be of some sort of Jamaican shrimp who is either extremely aroused or carrying a machine gun (possibly both). I pity the men who are going to have to stare at it while banging Olivia's hindquarters, because an ass tattoo removes what little hope a man may of had that the girl he is banging is not a filthy whore.