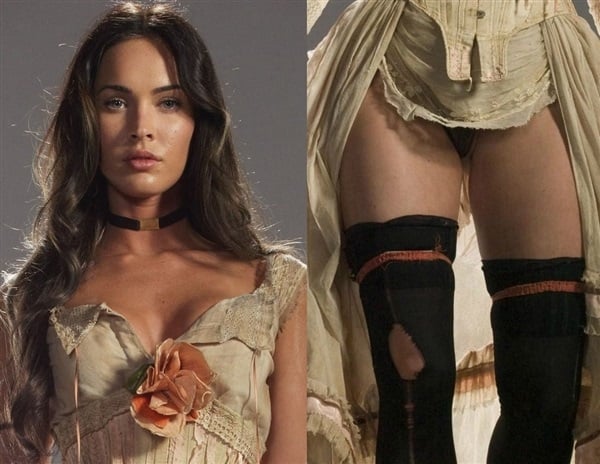 ---
A clear view of Megan Fox's vagina was discovered in a set of old promotional stills from her 2010 stinker of a movie "Jonah Hex".
Originally there were 90+ promotional stills of Megan Fox released for this film, and no one paid much attention to them as the majority of the pictures feature Megan staring vacantly into the camera. However, as you can see below, in six photos Megan's dress rides up on her and a clear view of her cock pocket can be seen through her completely sheer black panties. If that wasn't bad enough Megan Fox also slips a little of her meaty vaginal lips out the side of her panties in this photo.
One can not help but speculate that if these shots of Megan's penis purse had been brought to light before "Jonah Hex" had come out perhaps the movie would have received more attention and thus would not have bombed so badly, and Megan would still be acting (horribly) in films today. I guess sometimes even in real life heathen Hollywood can provide us with a happy ending.