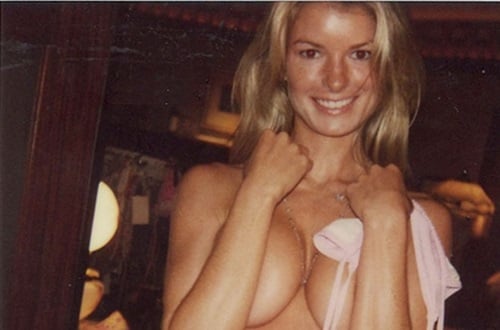 ---
Marisa Miller tries on various bikinis in the candid Polaroid pictures below from the new issue of Concubine Quarterly (the 3rd biggest harem shopping magazine in terms of circulation in the Islamic world).
For those who do not know, supermodels, actresses, and other highly desirable infidel women submit candid photos of themselves in various states of undress to magazines like Concubine Quarterly in the hopes of being purchased by a virile Muslim.
I must admit that I have long had my eye on Marisa Miller for my own harem, as she is one of the few Western women who's body proportions are adequate by superior Muslim standards. Of course I wanted to purchase her years ago when she was still of an acceptable age, but the talks broke down when her agent at CAA used the moronic negotiating tactic of not returning my calls despite my more than generous final offer of 3 mule skins, half a tanker of pesticide, and a case of ammunition.
However, now that Marisa Miller appears to be back on the market I may scoop her up for cheap. Marisa's agent is going to be kicking himself for his greediness when he now only walks away with his 10% of a pail of week old camel milk.