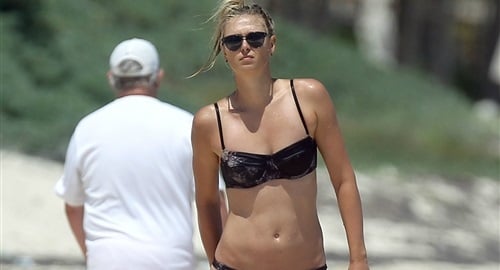 ---
Russian tennis star Maria Sharapova shows off her long limbs, fingers her butt, and almost flashes her red communist vagina in the candid bikini beach pictures below.
Of course no matter how many tennis titles Maria Sharapova wins she will always be in the shadow of her fellow Russian Anna Kournikova, who was without a doubt the greatest female tennis player of all time.
Yes many of us remember Anna Kournikova's tennis career fondly. Particularly this epic yellow bikini performance she put on at a beach in Miami.
As you can see in the GIF above, Anna was simply amazing at tennis. Maria Sharapova does an admirable job trying to repeat this feat in the photo here, but lets be real there will never be another Anna.