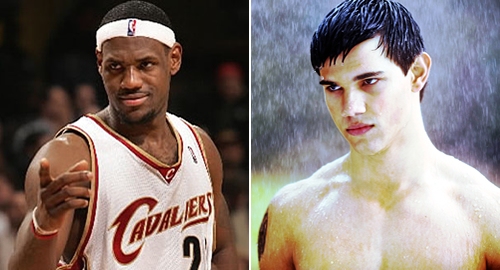 ---
LeBron James is joining Team Jacob, and will announce his decision on Thursday night, CelebJihad has confirmed. The decision, which is sure to anger millions of Team Edward supporters, brings to rest the most-hyped free agency period in N.B.A. history.
James, a noted Twihard, reportedly made up his mind after attending a midnight viewing of The Twilight Saga: Eclipse last Wednesday with fellow NBA star and Edward supporter Chris Bosh.
"I'm hooked on Edward because of how he treats Bella," Bosh told reporters after viewing the film. "He's romantic and protective of her."
"Edward is nice and can read minds; Jacob is ill-tempered and buff," Bosh added.
But Bosh's loyalty to Team Edward was not enough to sway James, who is reportedly obsessed with "that cute little wolf boy."
While the hype is focused squarely on James decision, players aren't the only ones caught up in the Twilight craze.
"The books made me feel like I was finally someone," says NBA commissioner David Stern. "I don't have many friends, but nothing can hurt me in my own little world."
Added Stern, "Also, I like the fact that it's encouraging players to read."