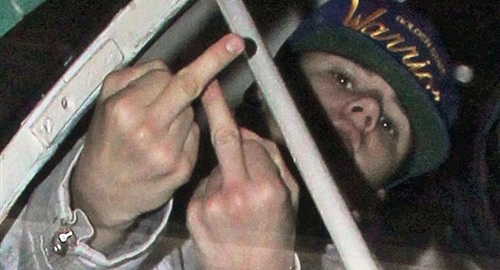 ---
Pop star Justin Bieber is one out of control teen! First he was caught impregnating a girl in a restroom, then he got it on with 2 teens in a Macy's, and now he is flipping off cameras and trying to intimidate the public with his 5'4 95lbs frame in the photo above.
I tell you one thing if Justin Bieber ever made obscene hand gestures like this to me or any other virile Muslim man, we'd punch his so hard in his cunt he'd be tasting his uterus for a week.
I'm sure the Justin Bieber PR machine will just spin this as Justin demonstrating the technique Usher uses when he checks his prostate. However, it is clear that if someone doesn't get Justin Bieber under control soon it is just a matter of time before he gets another chunky girl pregnant, or heaven forbid gets pregnant himself.