Commercial icon and habitual day-trader The E-Trade Baby, 6 months, was found dead last night in an apparent suicide, according to the Los Angeles County Department of Coroner's office.
Officials are refusing to comment during the initial investigation, but CelebJihad has managed to obtain a copy of the suicide note which indicates the Baby was unable to cope with losses he sustained in the recent financial downturn. (see below).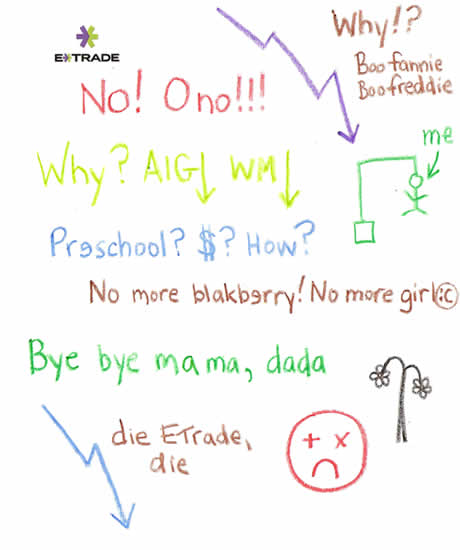 As the police search for answers in this highly publicized death, pressure is mounting on government officials to take action.
"We realize this tragedy may cause a public outcry demanding we ban infants from day trading," said Maxwell Harris of the Securities and Exchange Commission. "But the fact is infants are historically aggressive buyers, and without them we would probably see the Dow around 5,000 right now, so lets not throw the baby out with the bathwater, so to speak."
Added Harris, "It's not as if they don't have time to rebound before retirement."
E-Trade has yet to issue a statement to the press, but an executive who wished to remain anonymous said the company does not take dead babies lightly, unlike rivals Scottrade and TD Ameritrade, who "live for that shit."