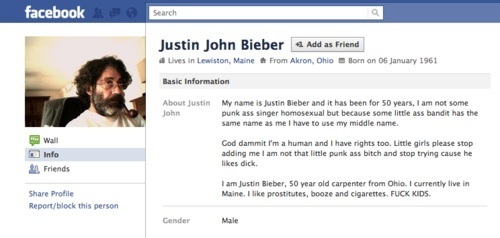 ---
Justin Bieber, the name conjures up thoughts of horrible singing and deviant homosexual behavior, but one man is trying to change all that. He is 50-year-old Justin "John" Bieber from Ohio.
As you can see in the screenshot from his profile above, Justin "John" Bieber lets the crazed hoards of young Justin Bieber's lesbian teen fans know what is what, by telling them very eloquently to "fuck off".
Obviously this man needs to be supported in his efforts to win back the name of Justin Bieber. Already a Facebook fan page has been started for him. With enough exposure hopefully one day when people hear the name Justin Bieber they will think of an old guy from Ohio who likes to bang prostitutes.