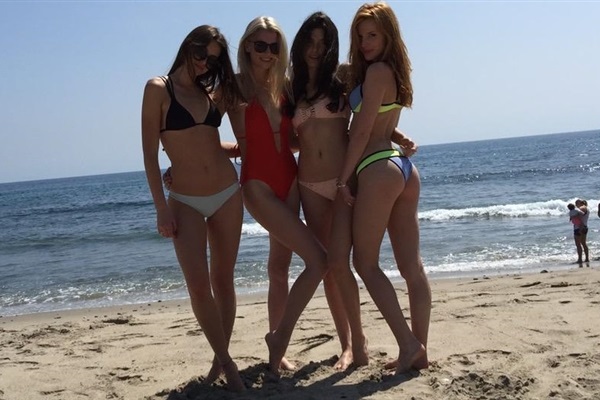 ---
Bella Thorne shows off her taut 17-year-old rump in a thong bikini while hanging out on the beach with some friends in the photos below.
There is no denying that Bella is an unstoppable force of social media sluttery, as she is constantly sharing scandalous photos of her nubile body on her Instagram and SnapChat. Thankfully in these latest photos Bella upped her game by letting her hot teen friends in on the action.
Yes there is no denying that this is an impressive group of girls. In fact, I'd be willing to offer their owner a barrel of figs, a camel hair blanket, and 2 slightly used AK-47s for the whole lot. However, if Bella and her friends are not being sold as a bundle package, I could go as high as a pair of old sandals and a box cutter for the blonde and the brunette in pink… redheaded Bella could come along for a night if she wants to complete my teen Neapolitan, but I am no fool and will not be paying more than a few dinars for services that pretty much any guy in Orange County with a 6 pack of watermelon Smirnoff Ice could get from her for free.