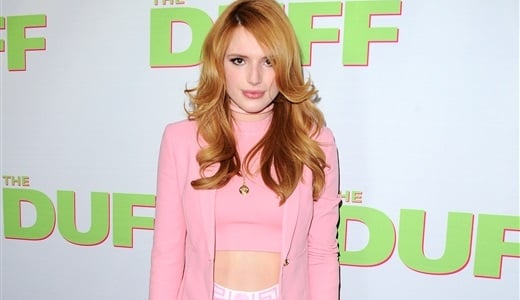 ---
17-year-old former Disney star Bella Thorne nearly shows her muff while attending the premiere of her new movie "The DUFF" in a pink crop top and short skirt shorts combo.
In the film Bella plays a popular skinny high school girl who bullies her "designated ugly fat friend" or "DUFF" played by Mae Whitman. However, Mae gets her revenge on Bella when she enlists the help of a popular jock (in exchange for a rimjob and half a dozen jelly donuts) to destroy Bella's reputation by having him spread a rumor that Bella gave him gonorrhea.
In the end Bella learns a valuable lesson about friendship, and how it is important to not judge people based solely on their appearance… before she takes a bunch of pills and slits her wrists in a warm bath. Overall "The DUFF" is a pretty good Valentine's date movie, so I give it 2 and a half camel humps.