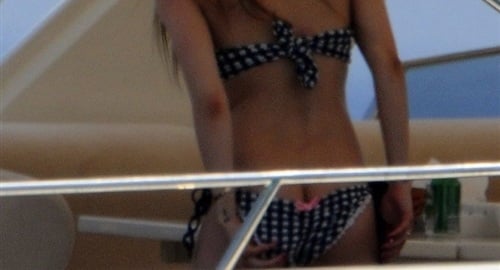 ---
Self-proclaimed "punk" star Avril Lavigne was caught on camera in St. Tropez showing her tiny Canadian ass, in the hope of shocking the French.
Avirl reportedly spent the day on a yacht in the south of France, drinking Mountain Dew, talking about how hardcore she is, and high-fiving her friends.
When Avril spotted some French fisherman near her yacht she told her friends to "watch this", before proceeding to slightly pull down the back of her bikini bottoms revealing the top half of her ass crack. She then proceeded to taunt the fisherman by shouting, "Chill out whatcha yelling for?"
The French fisherman appeared to be unmoved, as the majority did not even bother looking up from their fishing lines. Obviously they were in shock from Avril Lavigne's hardcore antics. This is girl is such a tremendous badass! Canada would be wise to keep her under wraps less she cause an international incident.