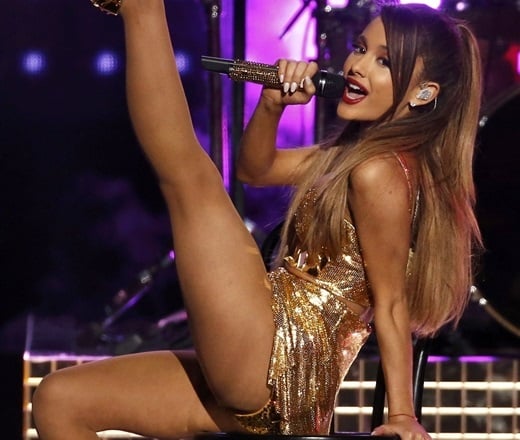 ---
Ariana Grande pleased her Zionist masters greatly by putting on a slutty gold studded performance at the American Music Awards last night.
There are two things that the Jews who run the entertainment industry love more than anything else, and those are gold and profiting from promoting degeneracy. As you can see in the photos below, Ariana Grande was able to combine both of these beloved Hebrew pastimes in one performance by showing off her tight little ass and firm legs while in a gold slut suit.
Not only did Ariana Grande expose her nearly nude nubile body in these pictures, but at one point she also "dropped it like it was hot" and simulated riding a dick on stage.
No doubt Ariana Grande often performs this reverse cowgirl position, while contracting AIDS from her abid rapper boyfriend "Big Sean".