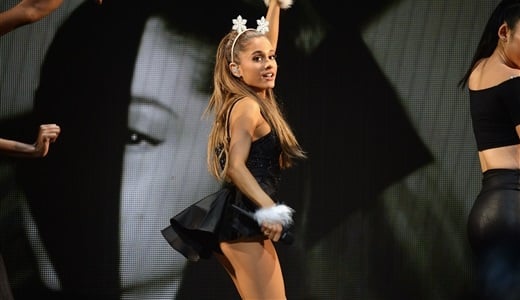 ---
Ariana Grande continued to desecrate the Christmas season by whoring her sinful body at the last stop of the Jingle Ball 2014 tour in Miami.
As you can see in the GIF below, Ariana Grande dressed up as the horned winter demon Zaltar while exposing the bare side of her tight little ass during a dance number.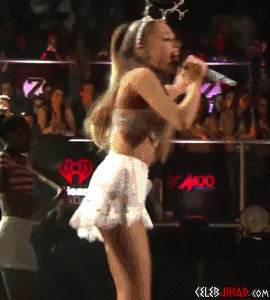 If that wasn't bad enough Ariana then changed into a slutty costume that is as black as her soul, and continued to flaunt her taut hindquarters while wearing two white Jewish Star of Davids on her head.
If these pictures and GIF, don't prove that Ariana Grande is a Satanist hell bent on spreading blasphemous depravity for the profit of Zionists I don't know what will. Clearly the Muslim high council now has all the evidence it needs to issue a devastating fatwa condemning Ariana Grande for her brazen acts of heathen sluttery.