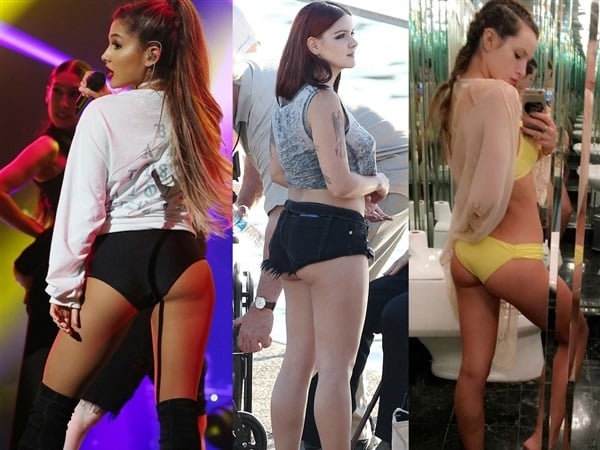 ---
Three of heathen Hollywood's biggest whores, Ariana Grande, Ariel Winter, and Bella Thorne, brazenly flaunt their butt cheeks in the photos below. Of course it is not that great of a coincidence that Ariana, Ariel, and Bella all had their booty meat out flapping in the breeze at the same time, for between the three of them they are responsible for at least 80% of all non-Kardashian related celebrity attention whoring.
First up we have Ariana Grande who shows off her tight round little ass cheeks while onstage in Paris. Hopefully the next time that Ariana performs in Paris she will book the Bataclan Theatre, so us righteous Muslims can burst in with out AK-47s and put on a real show.
Next up we have "Modern Family" star Ariel Winter who not only shows off her fat sloppy ass cheeks, but also nearly kills acting legend Burt Reynolds when she airs out her stinking skank lady cave right in his face in the photos below.
Last and probably least we have Bella Thorne who flaunts her tight teen butt and fake titties in a yellow bikini in the tragic photos below… For shortly after they were taken that inflatable swan had to be down when it contracted a nasty case of incurable militant gonorrhea from Bella straddling its neck.