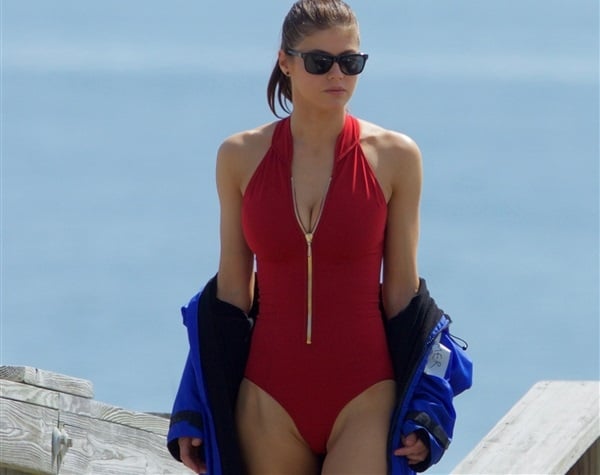 ---
The "Baywatch" red swimsuit has been an iconic symbol of infidel depravity ever since Pamela Anderson and Yasmine Bleeth crammed their silicone enhanced titties into them nearly 30 years ago.
Now with the nostalgia cash grab of a "Baywatch" movie in the works a new generation of heathens will come to know this infamous red swimsuit, as the star of this degenerate remake Alexandra Daddario shows off the new model in the behind-the-scenes photos below.
As you can see in these Alexandra Daddario photos, the new Baywatch swimsuit has the same devilish red color of the original, but features a higher cut bottom for even less vaginal coverage. In fact, this swimsuit reportedly utilizes patented pussy hugging technology which was developed by NASA for female astronauts' g-strings to be able to handle the rigors of space. Another new aspect to this Baywatch swimsuit is the gold front zipper. This zipper can pulled by a drowning victim to unleash Alexandra's perky tits as flotation devices.